As we continue to discover ways to maintain our sense of connection throughout the summer, this newsletter will serve as a way for MKA to share information and resources about the plans for our return to school and provide updates from each of our campuses.
Finding strength in our one-school community. We are MKA.
Everyone Learning, Every Day
Dear MKA Families,
Today's newsletter provides updates that describe the interactive and iterative process of planning for the fall and will answer some of your questions about our return to school. Those plans have been and will continue to be built around a hybrid model of school operations. Within that model, we are taking every step we can to assure the health and safety of all colleagues, students, and MKA families.
Please access important information using the link below. The Planning Forward Health and Safety Committee has designed comprehensive protocols informed by national, state, and local guidelines, medical advice, and best practices in an effort to minimize the risk of COVID-19 infection for our students, faculty, and staff. The Planning Forward Program Committee has supported the extensive work and professional development undertaken by the faculty this summer to teach in a hybrid mode.
Our planning and decision making continue to evolve. Campus specific and detailed plans for the opening of school will be communicated to you on August 14. In the meantime, please do not hesitate to contact me, the Heads of Campus, or other school administrators with your questions about MKA's operations this fall.
Warmest regards,
Tom Nammack
Headmaster

Dear Primary School families,
We hope you are having a healthy and safe summer and look forward to seeing Primary School students in September.
We'd like to share a letter with personnel and grade level teaching team updates for the new school year. Please also be sure to check our Back2School webpage, which has been updated with important new information. The site has letters from grade level teams, information about new student orientation, and lists of basic supplies that will be helpful for days when students are learning at home. (Specialized supplies that may be needed will be sent home by teachers.)

Please note that while the dress codes for all campuses will be posted on the Back2School site in the coming weeks, this school year Pre-K and K students must wear Velcro sneakers to school each day so as to help increase students' independence and to help students and teachers maintain social distancing. First-third graders who are learning to tie shoes are strongly encouraged to wear Velcro or other sneakers they can secure on their own for the same reasons.
We are taking steps to adjust schedules and spaces so as to maximize student safety. The yearly schedule will be adjusted so as to reduce the number of Encore teachers students are exposed to at one time. The schedule will be adjusted to a rotation-based model for Encore classes so as to allow for less exposure between adults and students. All students will experience the Encores they typically would throughout the course of the year.

I hope that this update finds all of our families healthy and enjoying some summer fun despite the recent heat wave.
On July 24, we celebrated the completion of Middle School with the majority of 8th graders and their families in a ceremony on Van Brunt Field. While we practiced physical distancing and everyone wore masks, it was wonderful to finally be together and to bring some well-deserved closure to this class. The video of the ceremony is available on MKA's YouTube channel (MKA.TV).
Middle School faculty are actively engaged in summer professional development workshops and are working together on curriculum planning and preparation for school opening.
At the same time that faculty are working on curriculum, and we are preparing the Middle School campus for the safe arrival of students for on-site learning when school begins, we are also at work on other important aspects of our school opening plan. One of the first steps in our preparation is the assignment of students to M (Montclair) and K (Kimberley) cohorts for the hybrid model of school operations. This is a complex and time-consuming process for which we are considering many factors, among them: making sure that siblings are assigned to the same cohort in the Middle School and across all three divisions; friendship requests; balancing groups according to diversity; considering specific learning needs of students. As soon as we have assigned all students and are satisfied that everything has been thoroughly checked, we will communicate this information along with teacher assignments to families.
In the last Planning Forward update, I shared information about reading lists that are available on the Back2School webpage.That webpage now has the most up-to-date supply lists for each grade. Families should check the Back2School webpage frequently for additional important information for the start of school. I hope to be able to share with families additional detail about school opening plans and procedures in the next edition of this newsletter.
Sincerely,
Randy Kleinman, Ed.D

Dear Upper School parents,

Our Return to School
Happy summer to you, all! I hope this letter finds you and yours enjoying these warm summer days. At Upper School, our design teams are working hard to meet their recommendation submission deadlines at the end of this week. Keep in mind that these design teams have student and faculty representation from a cross section of the Upper School community. Their work has been intense this month, and after the recommendations are submitted, they will be vetted by the Upper School administration and faculty before being finalized. We will spend the next two weeks in that process, finalize the recommendations, and share them with parents and students on or around August 15. Our plan is to then have Q&A sessions with parents and students about the opening of school.

I can report that our 'M' and 'K' cohorts are being organized around House, so we can keep families together. Students in Walden and Bradley will attend school on 'M' days and students in Monjo and Strong will attend school on 'K' days.

Dear MKA Families,
PAMKA's annual Middle School Supply Sale has begun. Parents can order supplies for your Middle Schooler online and the box will be delivered to your door by Labor Day. The final day to order is August 15.
Prices are competitive, PAMKA earns a portion of the sales, and you avoid going to the store.

Please view the flyer for more information and to purchase.
Best wishes,
Janice Jacobson
PAMKA President
MKA's Commitments to Teaching and Learning - In Particular, During Remote & Hybrid Learning Focus On: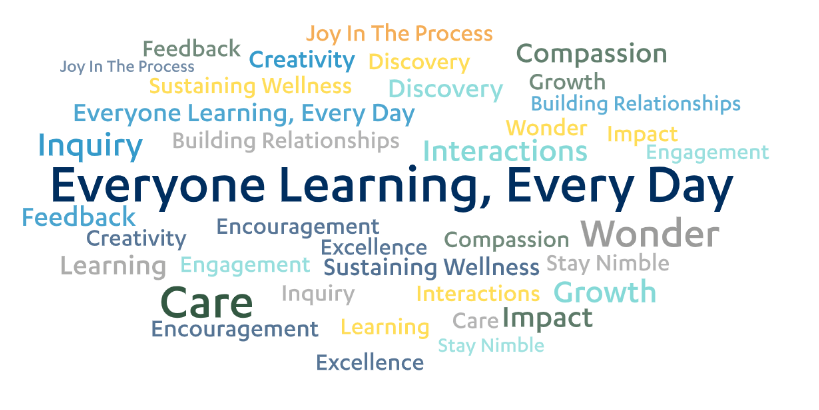 Stay Connected & Engaged With MKA This Summer! ☀️
While enjoying your summer break, don't forget to capture and share your summer activities by emailing socialmedia@mka.org. We want to share your stories!