Across our virtual campuses, in our homes, our commitment to one another and to our community is expressed in how we learn and how we give back. In these challenging times, we are discovering new and creative ways to to maintain our sense of connection and togetherness.

Finding strength in our one-school community. We are MKA.
Thanking Frontline Heroes
We are very excited to share your beautiful posters, words of positivity and encouragement, and smiling faces with the entire community in this video. Thank you to everyone who submitted a photo.
We encourage you to share the MKA video with your friends, family, and beyond. Don't forget to use #WeAreMKA or tag us when sharing on social media!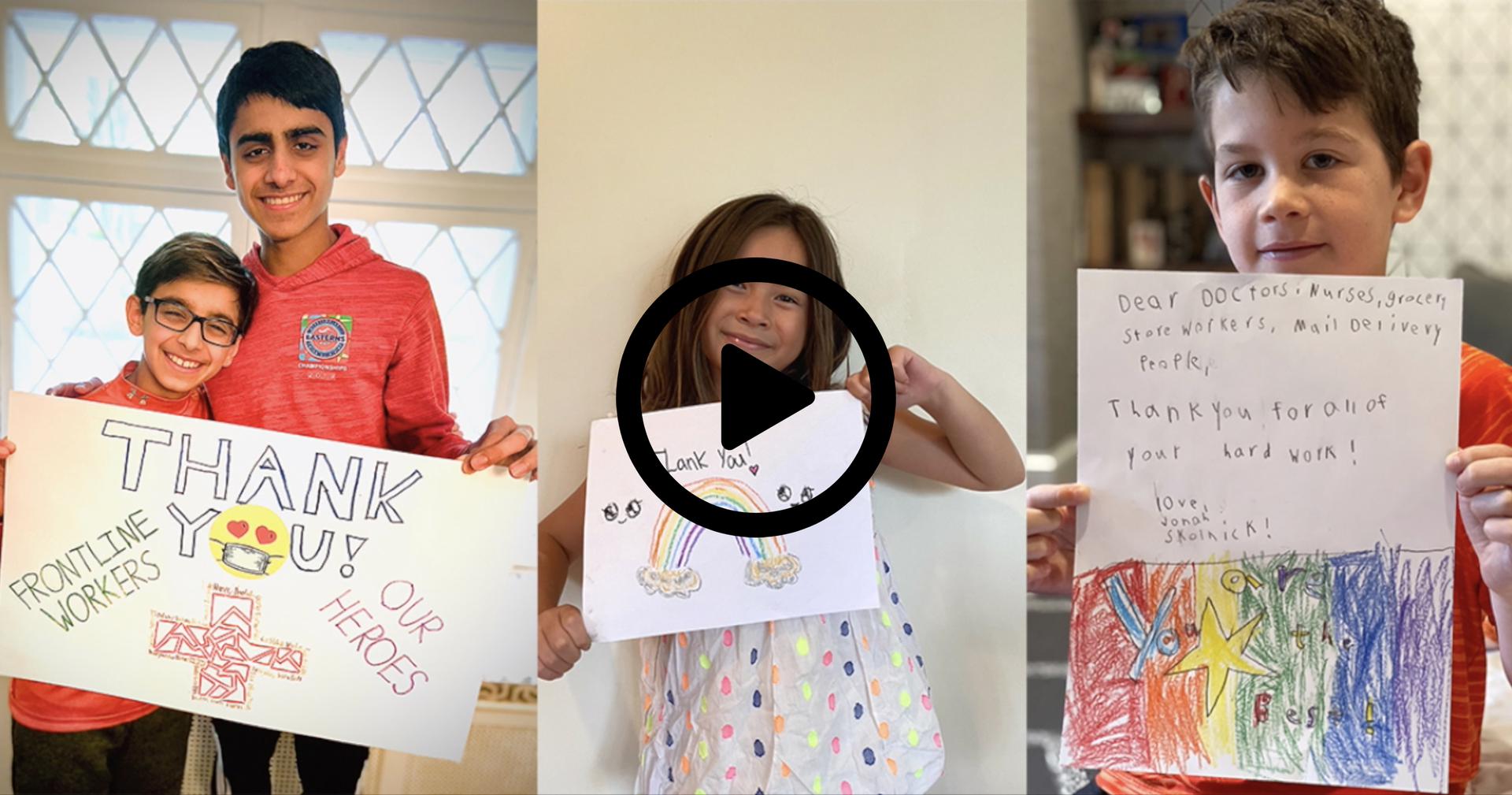 Showing Our Cougar Pride
This Saturday, May 9 would have been Cougar Pride Day, an annual PAMKA-sponsored event that students on all three campuses look forward to each year. While we can't be together, we can still show off our Cougar Pride!
We invite you to snap a photo of yourself wearing your favorite MKA gear and submit it via email below by Friday, May 8. Then stay tuned for a special celebration message on the MKA Facebook & Twitter.
Celebrating Maypole...Virtually
Thanks to Ms. Weaver, the annual Primary School Maypole celebration lived on virtually this year. Some of our youngest Cougars got all dressed up and danced this special Brookside tradition at home!
Tuning in to Livestream
We are glad to offer several afternoon opportunities for live interaction and engagement with members of the Primary School team. These sessions remain entirely optional, and students are welcome to participate in some, none, or all.
Writing Notes for the Class of 2020
The Barrett Family (Brooks '25, Annie '27, and Gracie '27) came together to create handmade notes for each senior. They shared some words of encouragement and kindness in hopes of putting a smile on every student's face. Thank you, Brooks, Annie, and Gracie for making seniors feel special during this time!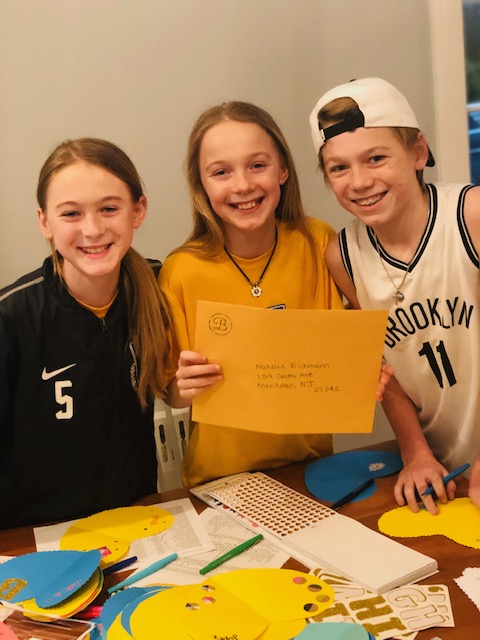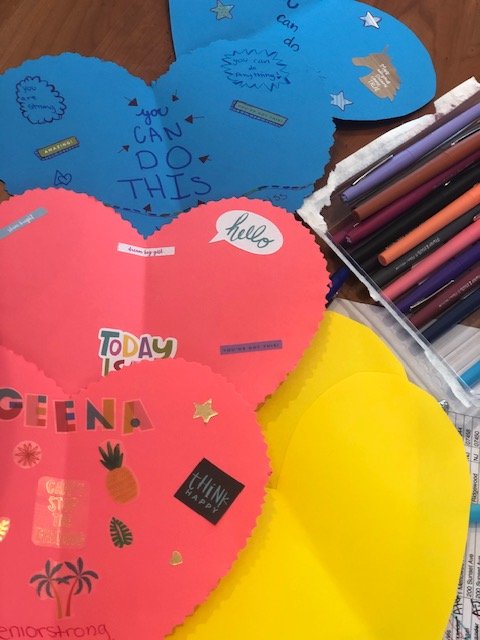 Volunteering Virtually
While Skylar '27 hasn't been able to volunteer weekly as she normally would at Brandywine Living, she has found other ways to help bring joy to the residents of the senior assisted living community.
Skylar drew pictures in driveways and then took photos of her art. The photos were later handed out to the seniors. She also recorded herself reading a story that the residents can watch in the rooms. Thank you, Skylar, for continuing your community engagement even during this time
Celebrating MKA "Lifers"
On Saturday, May 2, Mr. Nammack and Dr. Flocco embarked on a multi-town journey to deliver gifts to the 24 seniors who comprise this year's cohort of "Lifers." The annual celebration of students who have attended MKA since Kindergarten was canceled this year due to concerns about COVID-19. Read more and view all photos in this news post.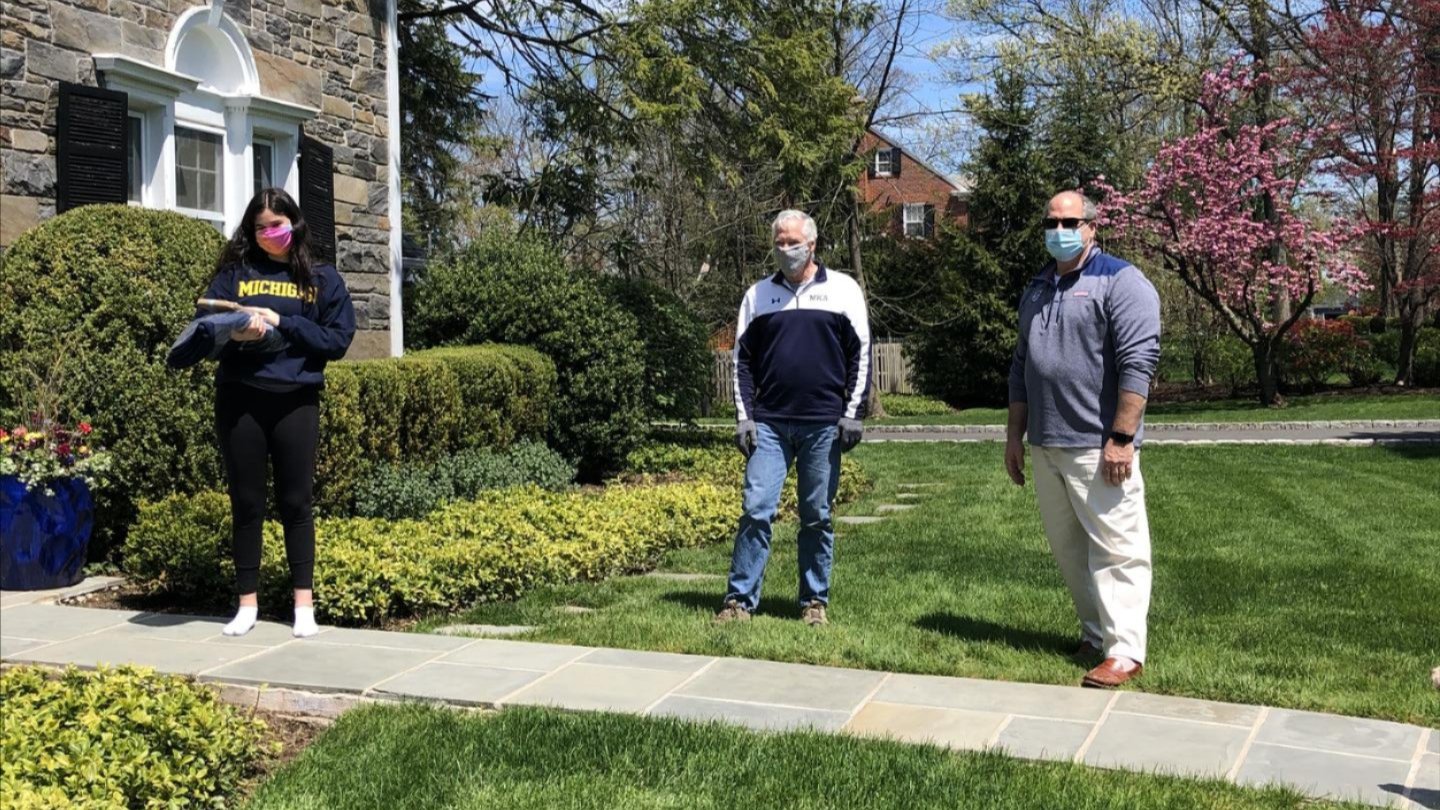 Reflecting on COVID-19
Ms. Boncher gave her AP English students an assignment that asked them to reflect on how they can use this time of self-quarantine as an opportunity for personal growth. In just 300 words, students delivered beautifully written messages of self-reflection, empowerment, and positivity.
For the next few weeks, we'll be sharing excerpts from what students submitted for their assignment. We hope you enjoy reading them!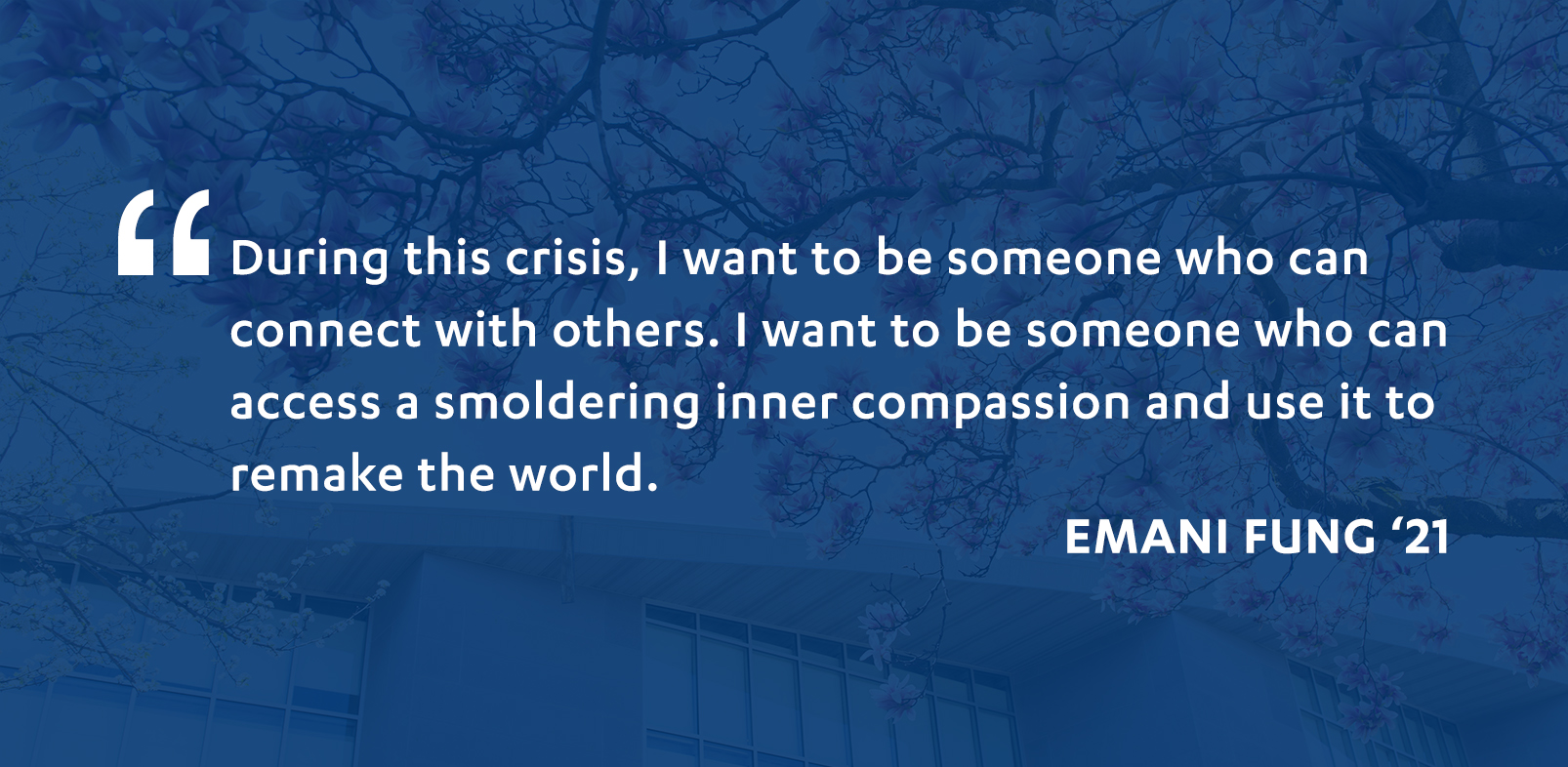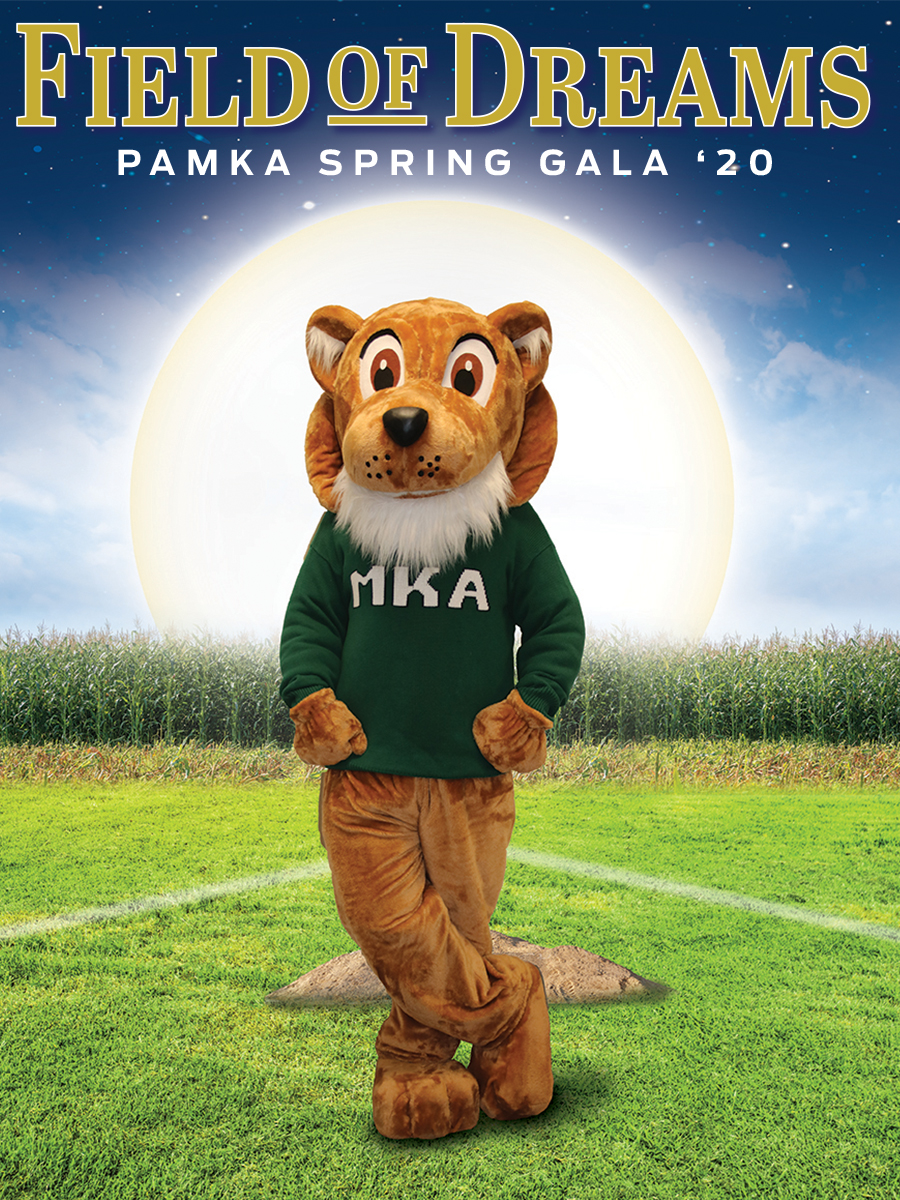 The PAMKA Spring Gala has Gone Virtual!

PAMKA's Virtual Spring Gala Auction kicks off this Friday! The auction opens at 9:00 a.m. on Friday, May 8 and closes on Friday, May 15 at 9:30 p.m. Please join us by visiting mka.org/pamkagala to register to participate, view the auction catalog, or to donate.
In addition, our 50/50 raffle is still underway with the pot at $11,500. Tickets are $50 each and you can win 50% of the pot towards tuition or in cash! Get your raffle ticket now at mka.org/pamkagala. The winning ticket will be announced on Friday, May 15 at 9:00 p.m. by Headmaster Tom Nammack. Please help make a difference for MKA. We are stronger together!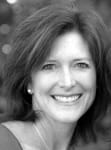 MKA Parent and Trustee Evelyn McGee Colbert P '14, '16, '20 Named Member of Governor Murphy's Restart and Recovery Commission
Congratulations to MKA parent and Trustee Evelyn McGee Colbert P '14, '16, '20 was named a member of Governor Murphy's newly created Restart and Recovery Commission! Learn more in this news post.
Richard Pannullo '16 was attending his final semester of college, which was upended by COVID-19, at Case Western University. Rather than return home for the rest of his semester, Rich admirably decided to take on additional shifts working as an Emergency Medical Technician for Midwest Medical Transport in Cleveland, Ohio. In this role he transports patients via ambulance to other hospitals or their homes. We are so proud of Rich for his brave work during this time.
Staying Connected & Engaged with MKA!
Following MKA on social media is another fun way to see how the entire community is embracing remote learning and finding creative ways to enjoy this time at home. From community engagement projects, students doing school work, or simply just having fun as a family, we want to share your stories! If you would like to submit content for posting, please email photos or videos with a brief description to socialmedia@mka.org.

If you aren't already a member, don't forget to join the MKA Watercooler. This private Facebook group is open only to current MKA parents/guardians and is another way to stay connected with the community during this time.